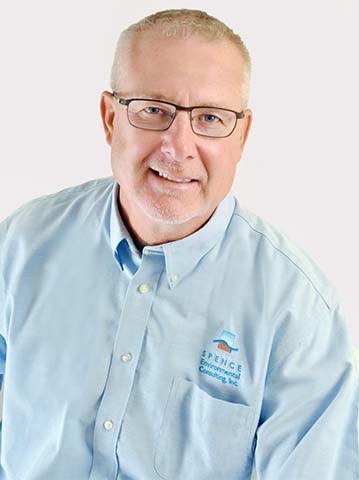 Jeff Bood, P.G., Senior Geologist
Statement of Qualifications
An experienced environmental professional and project manager with emphasis on environmental assessments, underground storage tank UST site investigations, environmental compliance, permitting, and soil and groundwater investigations. Experience working with state and local regulatory agencies. Strong technical writing, analytical, organizational, management and communication skills.

Areas of Expertise
• Geologic and Hydrogeologic Investigations
• Ground Water Monitoring and Data Evaluation
• Siting and Setback Studies and Evaluation
• Environmental Resource Assessment
• Small Public Water Supply Permitting
• Underground Storage Tank (UST) Site Investigations and Reporting
• Phase I/II Environmental Site Assessments
• Remedial Design and Construction Management
• Cost Recovery from State LUST Funds
• Budget Management and Scheduling
• Health and Safety
• Technical Reports and Documents
• Subcontractor Management
• Regulatory Compliance and Permitting

Education and Certifications
• B.S. Geology - Indiana University, 1988
• OSHA HAZWOPER 40 hour training and 8 hour refresher
• Certified Professional Geologist - American Institute of Professional Geologists (AIPG)
• Professional Geologist - Indiana

Representative Experience
Managed and coordinated activities within the company and with outside consultants to achieve all regulatory, siting and environmental requirements and approvals for large agricultural development projects.

Developed and managed a team of engineers, geologists, scientists and support staff providing environmental services for a national consulting firm. Key accountabilities included defining and initiating projects, and assign project managers to manage cost, schedule, and performance components of projects. Responsible for the development of project and business unit budgets, financial management, resource management, regulatory leadership, and client integration.

Served as Project Manager for a large portfolio of petroleum UST sites in Ohio, Wisconsin, Minnesota, South Dakota, West Virginia, Kentucky, & Pennsylvania. Responsible for project design and management, proposal writing, supervision of fieldwork and preparing technical reports and documents.

Conducted remedial studies and assisted in the design, installation and monitoring of soil and ground water remediation systems including soil vapor extraction, vacuum-enhanced ground water recovery, air sparging, ground water pump treat, free product recovery and chemical oxidation technologies.

Conducted subsurface investigations to evaluate subsurface impacts from a wide range of potential sources including underground and aboveground storage tanks and manufacturing facilities.

Prepared ground water sampling and analysis plans, designed soil and bedrock monitoring wells, collected and evaluated ground water quality data and prepared reports for submittal to state agencies.

Performed Phase I and II Environmental Site Assessments for real estate transactions for numerous commercial and industrial sites with a wide variety of historical usage.

Recovered denied and outstanding costs from state reimbursement programs associated with petroleum corrective action sites for a major oil company. This involved reviewing company ledger lines, reviewing and preparing applications for reimbursement, reviewing and appealing settlement letters and corresponding with the State agency.